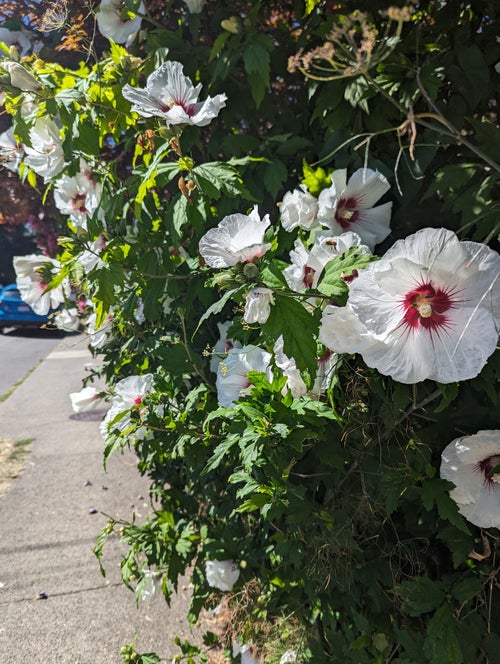 Summer is in full swing, which means it was time for us to get outside and enjoy the sun with another heritage walking tour! This time, we decided to explore the Victoria Heritage Foundation's newest area, Gonzales. This neighbourhood is so vast and rich in history that we are going to complete the tour in two parts – and today, under the sunny sky, we strolled through just two streets that were lined with incredible Character Homes.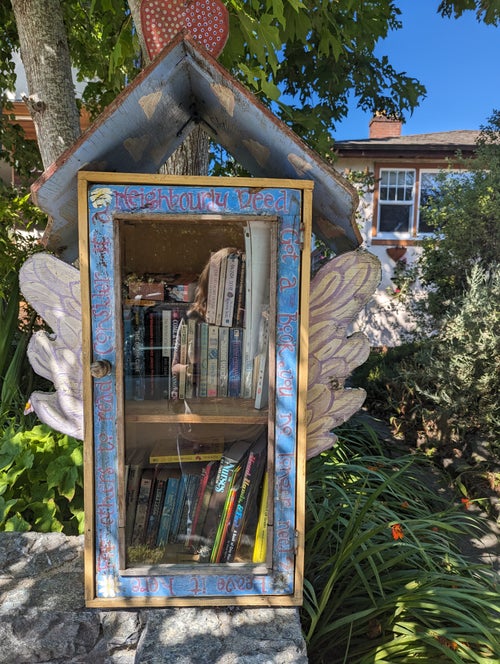 The first thing we noticed about Clare Street is the enormous trees and lush gardens that line the street. Clearly the homeowners in this area take an incredible amount of pride in where they live – the curb appeal of many of the homes was just lovely.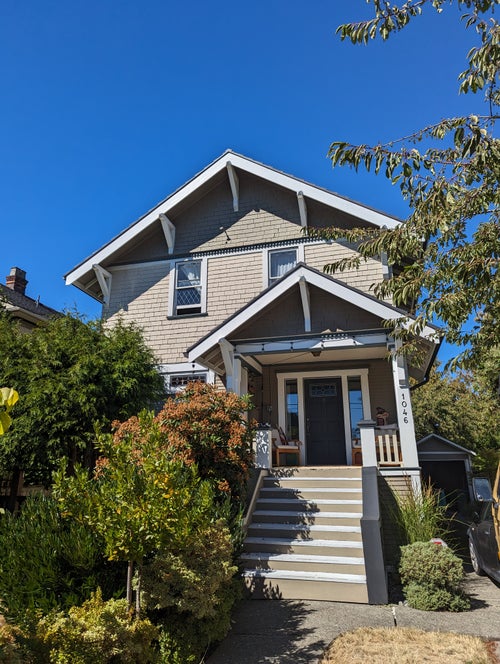 Starting off at 1046 Clare Street – this 1912 two-storey Craftsman home features stunning windows, dentil details, shingles and gables.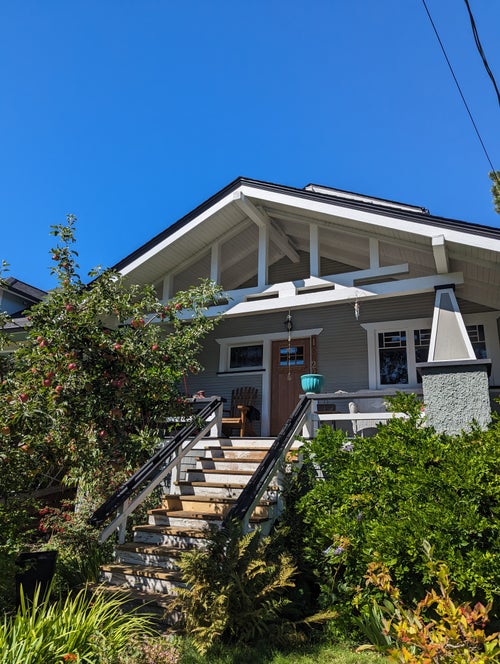 We stopped in front of 1022 Clare Street to take in the sprawling front porch. This 1914 California Bungalow is a stunning with its low-pitched, front-gabled roof with heavy timber beams. The geometric design of the windows adds to the appeal.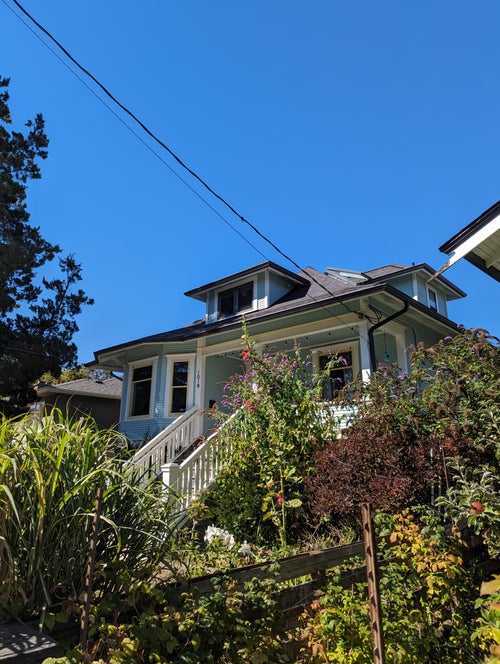 1018 Clare Street is a charming 1912 Colonial Bungalow with a box bay window that looks perfect for sitting in and reading a book on a rainy day.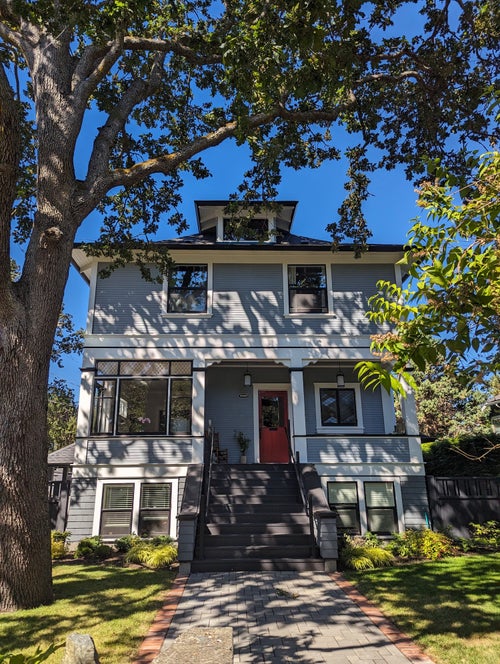 Turning the Corner to Chamberlain Street, we were again greeted with towering trees and dappled sunlight – a truly perfect afternoon stroll! 
Straight away we noticed 1000 Chamberlain Street. This impressive home is a 1910 Edwardian Arts & Crafts home that has been immaculately restored. The result is a perfect blend of original character features mixed with modern appeal. We loved it!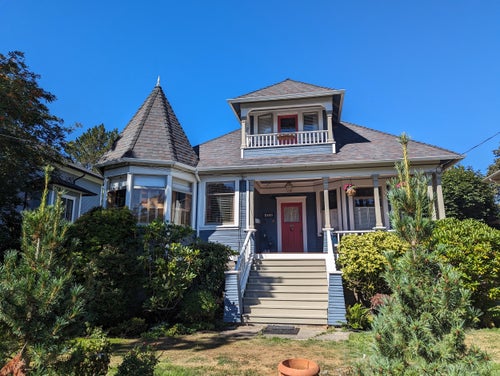 We were charmed by the octagonal turret that prominently pronounces itself on 1006 Chamberlain Street, a 1910 character home with cozy inset second floor porch.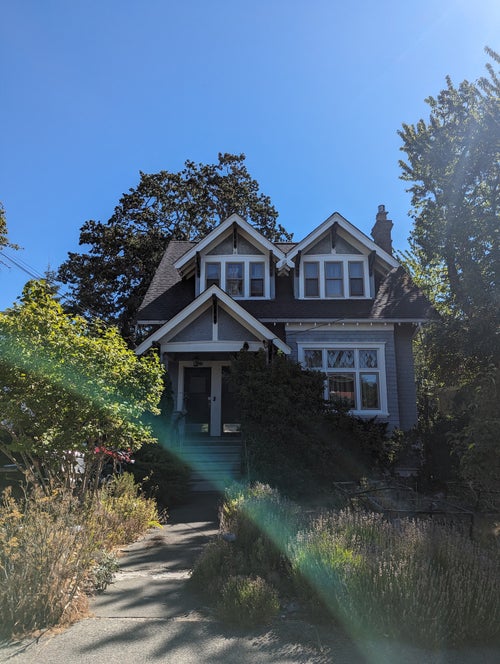 The 1910 English Arts & Crafts home, 1015 & 1017 Chamberlain Street (converted to a duplex in 1943), features interesting bargeboards and rafter ends which cross over in the middle, creating a very unique façade.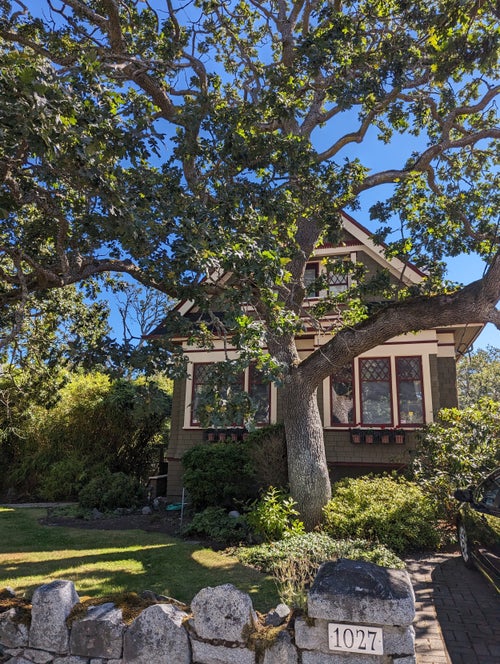 1027 Chamberlain Street is another striking and well-maintained home. This 1909 Edwardian Arts & Crafts home hides behind a staggering garry oak. The triple window assemblies on the ground floor square bays are incredibly eye-catching.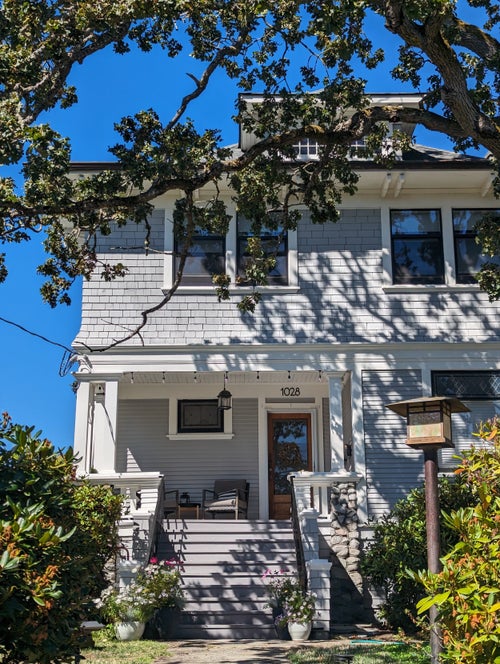 Next up, 1028 Chamberlain Street – a 1911 Edwardian Arts & Crafts home that stands out for the attention to detail in the front dormer, stone piers and shingled foundation. The lush gardens line a walk up to a welcome wooden front door.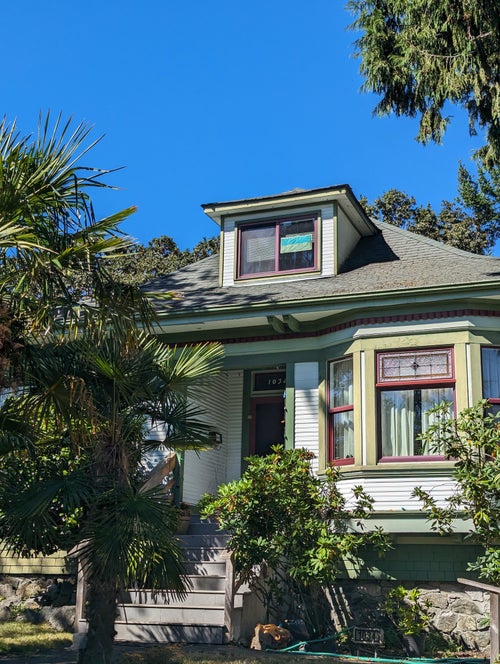 The pop of colour that 1034 Chamberlain Street offers is quite attractive. This 1908 Arts & Crafts Colonial Bungalow is set behind a thriving palm tree, which seems to amplify the bright and cheery feeling it emanates.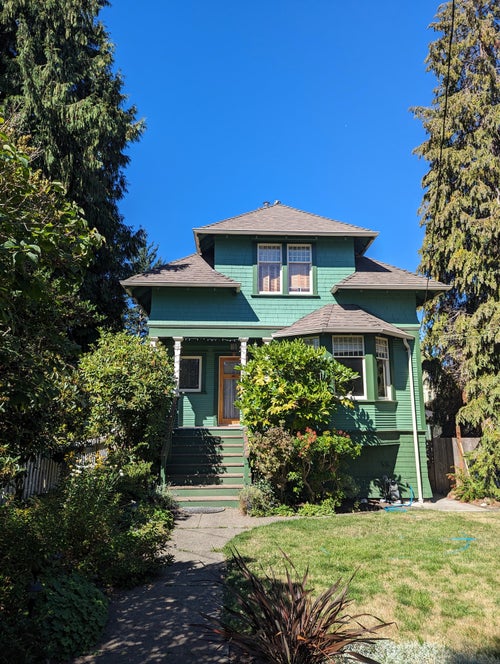 1038 Chamberlain Street is another colourful home – though not quite as bright as its predecessor. This 1912 character home was converted into a duplex in 1942. We particularly liked the inset corner porch and chamfered columns, as well as the decorative finish on the rafters. 
What we could see of 1057 Chamberlain Street peeking out from behind the street was an impressive bellcast hip roof and high dormers. The dentils add to the charm of this 1908 Colonial Bungalow's façade.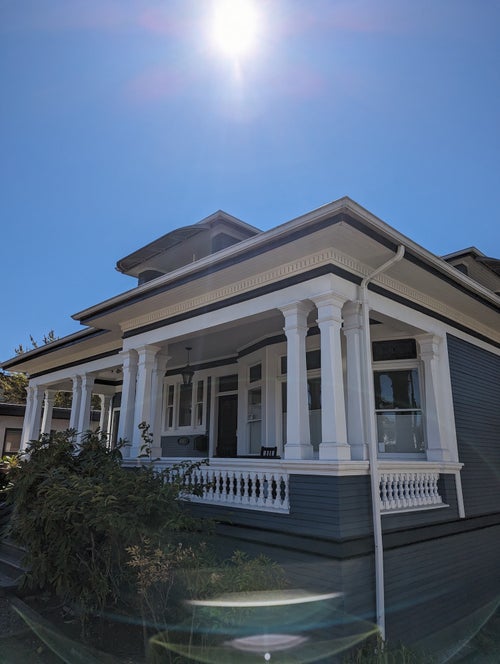 Rounding the corner once again, we ended our tour at the corner of Oak Bay Avenue, and took in the duplex/office building at 1863 Oak Bay Avenue. This home's first inception was a simple bungalow, built in 1903 – then updated in 1908 to its current form with second floor addition and character accents.
This heritage walking tour was packed with interesting homes, and we can't wait to go back to the Gonzales neighbourhood again to explore more! After your tour, be sure to stop at nearby business on Oak Bay Avenue – Good Things Consignments is a personal favourite of ours, and a great place to pick up some antique accents for your own character home. 

Until next time! 
- 
Victoria Character Homes